WilderTools — Season 10
WiderTools offer alternatives to building lag-intense XP farms, or grinding. Tools can be earned from weekly /vote rewards, the Ruby Crate (Ruby Dragon drops keys) and the WilderCoinShop, which uses WilderCoins.

WilderReel
New for Season 10
Completely overhauled this season, the all new WilderReel increases levels as you catch fish and items with it. Dedicated players will reach max level 20 by catching 9k fish by season end. Good luck!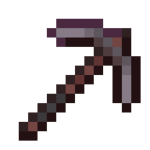 WilderPick
New last Season 9
The WilderPick increases levels as you mine blocks with it. Only the most dedicated players will reach max level and mine 1,016,046 blocks by season end. Will you?
---

WilderCrate — Season 10
Use a WilderCrate Key to unlock a random crate item that offer quality of life improvements, balanced with survival trade-offs and costs. These special items can be unlocked from the green WilderCrate at spawn.
Each season we add new items, remove some, and make adjustments to some favorites that may need rebalancing over time.
Here's what changed this season: view changelog.